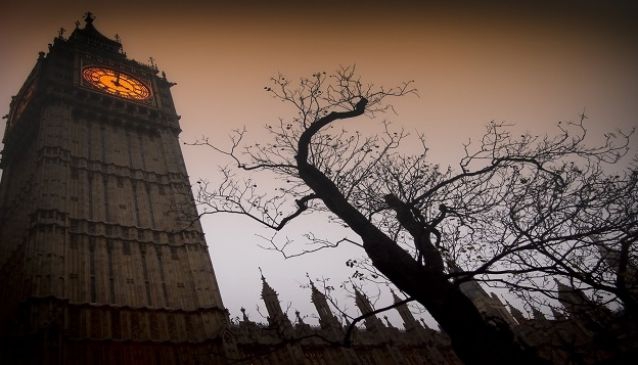 Get Spooked in the Capital
Adventure
London's countless, after-dark tours will beat a night in front of Most Haunted repeats hands down
With its bloody history, echoing, underground dungeons and haunting folktales, London is the perfect setting for any Halloween spooking. Here is our guide to the most ghoulish events taking place this year, all designed to help you leave the trick-or-treaters unanswered, and venture into the capital for a scarily good time.
Terrifying Tours
For those keen to fully immerse themselves in ghostly goings on, any of London's countless, after-dark tours will beat a night in front of Most Haunted repeats hands down. The infamous Jack the Ripper tour is popular all year round, but there are several, special excursions taking place for Halloween. From the 26th – 31st October, Ham House hosts night-time hunts for the ghost of its elusive Duchess of Lauderdale. Legend has it that she still stalks the halls of the house, three centuries after her death, wielding a silver-tipped cane. The tour lasts an hour, and ends with canapés and drinks in the beautiful Orangery.
If you like your ghosts a little more two-dimensional, the Museum of London is playing host to a 'Hauntings and Hangings Tour' on Halloween eve, guiding visitors through the gallery's many portraits of graphic public-hangings and haunting, churchyard murders. Be warned: it won't be long before the chilling scenes seem to come to life…
Atrocious Activities
We all enjoy a good horror film, but the event '2.8 Hours Later: Asylum', offers the chance to live one, with the world's largest (and most terrifying) street game. Taking place regularly between 17th October and 2nd November, all participants aim to reach the safe asylum in a hidden location, which holds a survivors disco, complete with food and alcohol. To do so, players must navigate through a world of government corruption, quarantined borders and zombie attacks, issued with only a map and inter-linking clues. With faultless attention to detail, and a concept that could easily have been devised by Charlie Brooker for late night channel 4, this is the perfect way to crank up the Halloween fear factor.
For those who crave a creative outlet for their ghoulish impulses, on 29th October Cass Art in Islington will be hosting an art macabre sketching session, ingeniously named 'Draw Blood'. Here, budding artists will learn technical tricks for all manner of spooksome portraits, all held in a haunting, abandoned hospital.
Perhaps you prefer your Halloween with a bit more booze. If so, why not head over to the renowned Vinopolis bar for a spooky, evening cocktail-making masterclass? Set in the historic and haunting Bankside, expert mixologists will help you create all manner of devilish drinks.
Nasty Nightlife
'Go hard or go home' is the essential mantra for those looking to party their way through Halloween this year, and takes on a whole new meaning for two-day bonanza, 'A Danse Macabre', hosted by The Last Tuesday Society in The Coronet on 26th October. This event promises a musical spectacular, with over 100 performers, and genres ranging from classical to techno. Dressing up is of course, mandatory.
Anyone who takes their Halloween with a healthy serving of cheese will welcome Club de Fromage's spook-tastic event at the O2 Academy on 26th October, 'Haunted House of Horrible'. This truly indulgent evening will include a screening of cult horror film, Scream, as well as an 80s and 90s pop disco.
Brixton Academy also gets into the spirit of things with 'Haunted House London' on 2nd November. Hosted by infamous funk-mongers Knife Party, this event promises incredible (haunted) house music from artists including Swedish House Mafia and Flosstradamus.
If the previous nightlife suggestions are far too predictable for a wild, Halloween animal such as yourself, try something a bit different with the Pop Up Ping Pong 'Halloween Extravaganza'. The self-proclaimed 'Ping Pong Party Kings' are quickly earning themselves a following across the city, and are keeping things festive with an explosion of music, street food, drink and of course, Ping Pong with an edgy Halloween theme on the 26th October in Aldgate.
Flickr Credit: Yelp.com
Freakish Film-Screenings
Forget Twilight, Halloween is the one night of the year when vampires reclaim their identity. This year, join in the fun at 'Real Vampires: All-Nighter' film marathon at the BFI IMAX, showing 4 classic, fang-filled films from midnight until dawn on 26th October, including Fright Night and The Lost Boys. We guarantee there won't be a Kristen Stewart in sight.
For an evening of true horror film bingeing, make your way to St James' church between 31st October and 3rd November, for a marathon of spooky classics over four nights. These will include scream-worthy gore fest, Saw and everyone's favourite comedy horror, Beetlejuice.
With such an array of horrific happenings and evil events going on throughout the Halloween period, there is no excuse not to come out from behind your cushion, and get spooked in London!