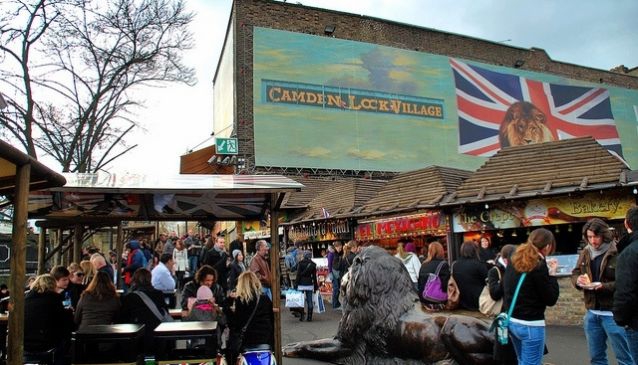 A Girl's Guide to Shopping in London (Part II)
Inspiration
Forget buying on Bond Street, we challenge you to a bargain hunt...
London is the sartorial capital of the world, a shopper's paradise. The endless parades of shops are used to shelter from the rain or to grab a purchase. Londoners certainly can drive a hard bargain but far too often the cheaper end of the market is dominated by the pound-saving Mecca that is Primark. This does not do justice to the wide variety of markets, vintage outlets and unique gems that are nestled in London's backstreets. Forget buying on Bond Street, we challenge you to a bargain hunt.
Spitalfields Market
Until 1991 Spitalfields market was used for the sale of vegetable and fruit by Cockney traders, but with a complete renovation of the market in the last decade it is now a trendy place to hang out and shop. With up to 110 stalls on its busiest days (usually these are Sundays) and located under a newly renovated glass canopy, the market has the feel of being open-air but is also sheltered from the inclement weather.
The stalls are full of vintage clothes as well as contemporary fashion, accessories, furniture and other goods. The Spitalfields area is also where the retail chain All Saints has its biggest outlet in case you arent so keen on vintage finds.
Once you have filled your shopping bags, it's time to fill your boots at the large variety of award winning restaurants, cafes, coffee shops and bars. The market has all the ingredients for a perfect day out in one place and it is only a five-minute walk from Liverpool Street station.
Image by MattFromLondon
Brick Lane
Brick Lane is only slightly further away from Liverpool Street than Spitalfields Market and is equally as promising for seeking out material treasure. Brick Lane is pure East End, Bangladeshi curry houses, Jewish Bagel Shops and most importantly vintage shops.
These shops have grown off the back of young hipsters living in the area, demanding unique looks for few pennies. The joy of this area is that it is constantly changing and as such pop-up shops come and go. However you are always guaranteed a great bargain and a varied selection of clothes. Remember don't be afraid to haggle your way to a success.
The best shops for vintage in this area are Absolute Vintage and Rokit. Both are well-known establishments in their own right and are always bustling with local shoppers. Absolute Vintage is best for accessories, if you fancy yourself as a cast member of Downton Abbey they have velvet gloves, handbags and dainty shoes. Or if you are more of a James Dean, Rokit is better for jeans and retro leather jackets, hailing from 1960s Hollywood.
Image by Space_Cats
Oxfam Boutique
For the best charity shops London has to offer, in the words of the Pet Shop Boys, go West. This side of London is best for second-hand shops, as the wealthier neighbourhoods mean better quality donations for the same knock off prices. Indeed the Oxfam store at 245 Westbourne Grove is no ordinary charity shop.
The current manager knows a thing or two about marketing. Some recycled donations have been restyled by students at the London College of Fashion, playing into the fashionable idea of green shopping. What could be better than cheap shopping for more than one good cause? The store looks just as stylish as the other high-end boutiques in the neighborhood. The front window is full of glass boxes with accessories and jewels displayed beautifully. More importantly there is a dressing room inside.
This boutique is not like rummaging through your grandma's wardrobe, all the clothes are well organised in size, type and colour. More recently they have even been organised by current trends, you'll never know you've left the comfort of Topshop.
Image by TheHandbook
Camden Market
Camden market in Camden Town, north London could not be more different to Spitalfields. This area is synonymous with alternative lifestyles, especially Rock and Goth fashions. The market runs alongside Regents' canal and is seated at Hampstead Road Lock. There are six markets in total, but those nearest the canal (further from the station) are best for quality bargains. Over the last decade Camden has improved the quality of the area, with the renovation of food stalls and lots of new areas such as the Stables Market.
The Stables Market, used to house the horses who helped out with the barges and warehouse trading in the 1800s. The Stables area now has the biggest quantity of clothes stalls, some are permanently fixed and others come and go daily. Chain stores are not permitted so you are guaranteed to get the best products and the lowest prices.This is also a great area for buying international food – Mexican wraps, Chinese noodles or Peruvian empanadas, you will simply be spoilt for choice.
Hopefully this guide to bargain-hunting and vintage shopping has you climbing the walls, scratching at your purse and hailing the first taxi to London. But if you still fancy yourself as more of a big spender, why don't you check out our first London guide to shopping and let us recommend the best places for you to flash your cash! It's Absolutely Fabulous!
Image by MysteryBadger, Main image credit to Javier1949