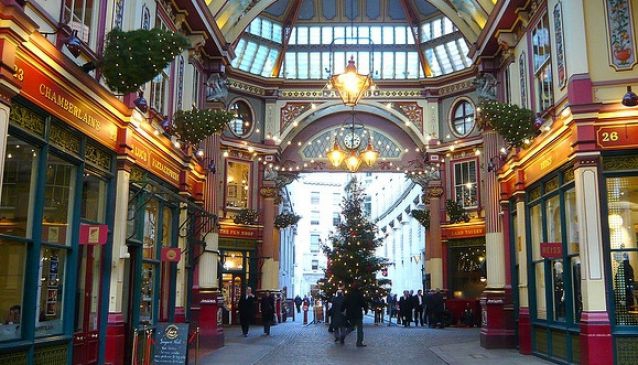 A London Winter Wonderland
Family Fun
Lighting up the capital at Christmas, London is awash with great events such as the markets
London is definitely a winter city which excels during the darker months, and in particular the Christmas festivities associated with this season. Wrapping up warm and exploring the city at this time of year is an entirely unique experience, and the chances of stumbling across a Christmas market along the way are high. Typically you will see visitors, huddled together for protection against the arctic like conditions, and indulging in traditional mulled wine, and scoffing minced pies. Lighting up the capital for the countdown to Christmas, the capital is awash with great events such as the markets; which are the headline acts for many of the seasonal celebrations. An occasion to be shared with friends and family and to soak up the joyous atmosphere sprinkled in laughter and happiness. Choosing the perfect market to attend is a difficult decision, so we have hand selected our favourite Christmas themed markets the capital has to offer this year, enjoy!
When: 9th November – 24th December
Where: Spitalfields Market, nearest tube: Liverpool Street/Shoreditch High Street
Opening times: Monday – Wednesday 10:00-17:00, Thursday 09:00-17:00, Friday 10:00-16:00, Saturday 11:00-17:00, Sunday 09:00-17:00
There is an array of Christmas inspired events at the Old Spitalsfield Market this year. As a quirky market that reaches out in terms of its vintage fashion, art, jewellery, and antiques, this is the perfect place to purchase sentimental gifts for your loved ones which they won't want to return. Just a short walk away from Liverpool Street Station and you will enter an essence of old London, as the terrain transforms into cobbled streets accompanied by vocal market traders. Early November sees the turning on of the lights followed by a free concert in support of Christian Aid. This focus on giving extends to the ELBA Christmas Toy Appeal which accepts donations to be deployed to the more unfortunate families across East London. The 12 days of Christmas begins at the end of November and the grand finale gives one lucky winner a generous present of £120,000. During the middle of December Spitalfields collaborates with London Jewellery Week; including costume and vintage jewellery, showcased by workshops, demonstrations, and a fashion show.
When: Wednesday 14th November
Where: Marylebone Parish Church, nearest tube: Baker Street/Regents Park
Opening times: 13:00-19:00
This one day event takes place in the luscious grounds of the St Marylebone Parish Church. Individual designers, global foods, and special crafts are the highlight of this manic festive celebration. A village like market which promotes locally grown produce and designers to showcase their delicious food and unique textiles. Along with the flavoursomeselection of cuisine, visitors to the Cabbages and Frocks Christmas market will find a variety of designers selling their attire. Rustle around for Italian cashmere, accessories, jewellery, and organic knitwear for babies and pick up cupcakes, sausages and lots more from the regular stall holders. The market shuts up shop just in time for the illumination of the Christmas light parade (7pm) along Marylebone high street. A great day out, ideal for families with young children; mesmerised by the playful festive lights, and the hustle and bustle of this short lived Christmas market.
When: 16th Novemeber - 24th December
Where: London South bank, nearest tube: Waterloo
Opening times: Monday-Friday 11:00-22:00, Saturday & Sunday 10:00-22:00.
Following the theme of London being the most culturally diverse city in the world, the Southbank Christmas market has a German inspired theme with all the trimmings; Glühwein (German mulled wine), Bratwurst sausage, and plenty more authentic delights. A total of 80 wooden huts occupy the levees of the River Thames, meandering from the London Eye down to Waterloo Bridge. Last minute unique Christmas presents can be found in the shape of handmade toys, jewellery and fragrant soaps. Children are more than welcome; this year the introduction of 2 huts offering a workshop in handicrafts is available, allowing parents to wonder off for a crafty festive beverage. Local schools and office choirs belt out an array of musical styles to get you in the mood. It's worth mentioning that if you time your visit right the South bank Christmas market coincides with the Real Food Christmas Market (a mouthwatering market also located on the Southbank between the 14th - 16th and 20th - 23rd December).
When: 19th November – 24th December
Where: Leadenhall market, nearest tube: Bank/Monument
Opening times: Monday – Friday 11:00-16:00
Leanden hall was used as the film set for Diagon Alley in the Harry Potter films and it definitely lives up to its magical reputation. Open all year round, this buzzing market transforms during the Christmas period to great effect. The architecture of this ancient hall; a restored market from the Victorian era (which is conveniently enclosed with a roof), is astounding with its high ceilings and detailed design. Leaden Hall Christmas market is sat right in the middle of all this, providing customers with produce of the highest quality, rich in meat, fish and fine cheeses. Leaden hall market is certainly a place to admire at a leisurely pace as the Christmas cheer bounces from wall to wall. Exclusive shops and dated pubs circulate the peripherals of the market, ensuring a well rounded shopping experience, topped off with hearty English grub, or a liquid lunch, more suitable to a traditional British Christmas extravaganza.
.
When: 23rd November - 6th January (except Christmas day)
Where: London Hyde Park, nearest tube: Hyde Park Corner
Opening times: Monday-Sunday10:00-22:00
Whilst being the most bustling of all the London markets, Hyde Park Winter Wonderland is the perfect place to bring the family. The vast natural surroundings of the park sets a rural scene; the gates open free of charge and the only feasible description can be explained as capturing Christmas in a bottle, inclusive of all its associated aromas and energised ambience. The elongated market consists of 100 cosy wooden chalets that you would expect to see in the Pyrenees Mountains; selling jewellery, accessories, clothing, handicrafts, and sweet and savoury culinary delights, which will surely keep the young ones preoccupied while you secretly buy them stocking fillers. A second market dedicates itself to Yuletide (a Germanic religion which has now been incorporated into Christmas); where original Christmas decorations can be acquired. The fun continues with ice skating, Santa's grotto, and thrill seeking rides that complete the adventure.
When: 28th November – 24th December
Where: Greenwich Market, nearest tube: Cutty Sark/Greenwich
Opening Times: Tuesday–Sunday 10:00-17:30.
Greenwich market becomes even more active during the festive holidays; with some fantastic typically Christmas additions. Be sure to peruse the 150 craft and designer market stalls, ideal for stocking fillers. Highlights include original artworks and handcrafted toys, clothes, handmade jewellery, beauty treatments and delicious festive foods and drinks. Santa will be landing in Greenwich market on the 15th-16th and the 22nd-23rd of December with his temporary grotto, and assisted by his charismatic elf capable of magic and balloon work to speed the queue along; costing only £4 to have a chat with Santa is a bargain. The festive spirit comes alive early in Greenwich; on the 28th of November local school children and television presenters spark the Christmas lights and serenade the countdown with traditional carols and theatrical performances. This year Robin Hood also makes a special guest return.
Image Credits - Flickr :
Chris Carson