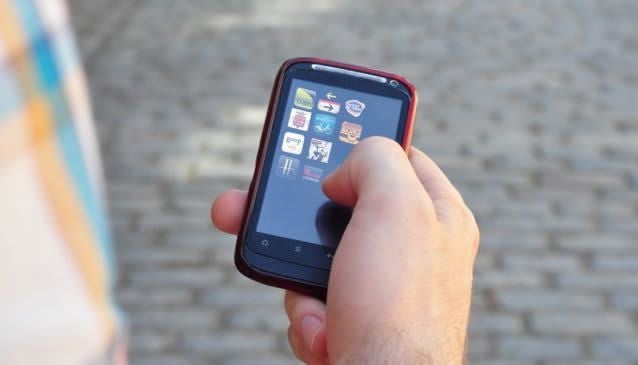 A Londoner's Travel Guide: Best Apps for London
Editorial
Tube Exits tells you where on the train you need to be to get off opposite the exit corridor.
It's no secret to anyone over the age of about five what a mobile app is because three quarters of the world's population use them. Ranging from the practical to the downright unusual, apps serve as part of the multidimensionality within most of today's mobile phones. Take a London travel guide app, for example. They're the pinnacle of portable pragmatism, helping out first-time visitors in every conceivable way. And wouldn't you know it? We're ready to list our top 10 apps to help you uncover loads of things to do in London.
Invented by a guy called Burgerac – a man on a mission to discover the best burger in London – this app for hungry mouths highlights where in town you can wrap your gums around the juiciest patties. Among the lists are Bar Boulud and Opera Tavern, a couple of likely contenders in Knightsbridge and Covent Garden respectively. The app also gives handy hints and tips on what to pair your burgers with, how to make signature sauces, and where to find the best burger buns.
For a trusted, cheery, beery tour of London's pubs , download this app for your device. Packed full of useful info including venue opening times, genuine reviews, addresses and quality imagery, the granddaddy of pub guides is here to help you imbibe your way across the capital, or find that out-of-the-way place that no one really knows about. Either way, there are 10,000 different venues to choose from so, if you don't find what you're looking for out of that lot, you probably never will.
This is a really cool way of seeing London, and definitely one of the more fun things to do here as you don't have to pay, queue, or book tickets for it. Using historic photography from the Museum of London's archives combined with your device's GPS, choose a designated destination and hold your device in front of your face as if you are taking a photograph. Watch how your screen displays a snapshot of the past which overlaps the modern bustle. There's even a little rundown of your specific location and, if you want to know more, we highly recommend the museum itself for more historic insights.
Banksy is one of the UK's most controversial street artists. Hailing from his hometown of Bristol, Banksy's work often depicts socio-antagonistic scenes such as policemen snorting cocaine or little girls hugging missiles like teddy bears. Rats also feature heavily among his creations and, with this nifty app, you'll receive an arty London guide which takes in over twenty locations that have been tagged by the infamous Bristolian, the real name of whom no one is quite sure.
This is a classic app for anyone looking to buy train tickets or just look up train times. You can order your tickets online and pick them up at a ticket office, have them delivered to your door (delivery is remarkably fast), or even purchase tickets ten minutes before you board your train. It's a real easy app to use, too; the interface is clean and friendly, and navigation around the app is crisp.
Whoever dreamed up this little spark of genius deserves a handshake at the least. For people using the London Underground, Tube Exits tells you which side of the train you need to get off from, and where exactly on the train you need be to get off directly opposite the exit corridor. You don't have to be connected to the internet to use it either, making it worth all sixty nine little pennies.
These bikes are an alternative method of London transport. Often dubbed 'Boris Bikes' thanks to our hapless mayor who came up with the scheme, you can rent one from one of the thousands of docking stations around London. This handy app tells you where the nearest docking station is, and you can select different sorts of routes to follow from it too, even set up alerts for when your allotted time slot's about to expire: perfect for tourists and locals on the go.
Get the Harrods experience right in the palm of your hand with the Harrods app. Its newly-updated features include virtual tours of the globally renowned department store, allowing you to get a real head start on where to look for things in-store. If that's not enough, however, there's another feature which guides you from section to section once you're inside the store itself. Otherwise you can browse the Harrods catalogue to your heart's content with over four thousand brand names to choose from.
9. Westfield London – Free
The Westfield shopping centres in London are the size of small continents in comparison to other departments. It's just as well there's an app for them so you can find your way around, see which shops are where, even make reservations at some of the restaurants that operate there.
Gwyneth Paltrow founded the travel journal website, goop.com, and so sparked this app which features, among others, a fantastic travel guide to London. It highlights relatively undiscovered places to eat, visit and shop, weather forecasts, maps, and telephone numbers and addresses. You can explore for yourself or use Paltrow's handcrafted video shares showcasing her favourite things to do in London. All this for the price of a pint; we'd definitely recommend it.