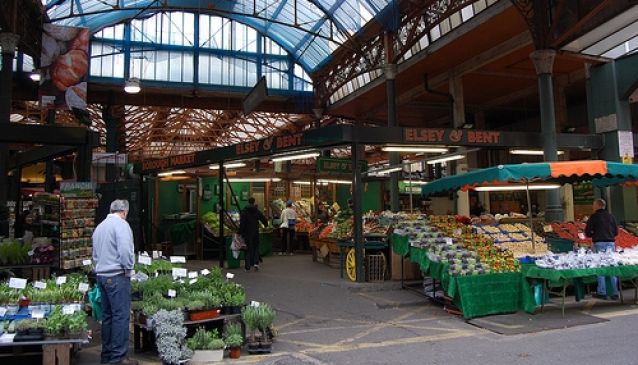 Market Metropolis
Editorial
If you delve a little deeper you don't have to be 'Mr. Moneybags' to enjoy a day out in London
London has a reputation as one of the world's most expensive cities to live in or visit. So you might expect everything to cost you an arm and a leg. You might even balk at the 'bargains' to be had, but this doesn't have to be the case. Of course, if you shop for your clothes on Oxford Street, eat dinner at The Ritz and buy your souvenirs from Harrods, don't expect your wallet to be bulging after a trip to the capital.
However, don't jump to conclusions or judge a book by its cover. As a modern man, I think the most I've done from the above list is purchase a £6 t-shirt from Topman on Oxford Street. Mainly because I think you need to get your priorities straight in life.
If you delve a little deeper you don't have to be 'Mr. Moneybags' to enjoy a day out in London. There is a thriving market scene throughout the city that is crying out be explored by locals and tourists alike. I've lived in South and Greater London my whole life and can still spend a day roaming around town like I'm a tourist and experiencing it all for the first time. There's always something to see that you haven't noticed before, or something new to capture your imagination.
As demonstrated in our previous article, you can get around the city on a shoestring, but a day shopping in the capital doesn't have to bust your budget either. London's markets are the perfect opportunity to experience the sights, smells and tastes of the city; and it doesn't have to cost you a penny.
North, south, east or west, whichever point of the compass takes your fancy and whatever corner of the city you're heading to, you are bound to stumble across a market along the way. But don't just stick to the well known and famous spots, get off the beaten track and explore the city, a diamond in the rough could be just around the next cobbled street corner.
Having said that, the most popular spots are popular for a reason and Portobello Market is a must. Yes it sounds as if it should be flying out of the mouth of an angry Italian and shares a name with a mushroom, but this is West London. The street stalls run straight through the trendy area of Notting Hill, but there's much more to Portobello than Hugh Grant and his distinctly average rom-com.
You can get traditional tourist tat all over the city but Portobello boasts specialist dealers that bring you antiques and bric-a-brac items you won't find anywhere else. Head to where Chepstow Villas crosses Portobello Road and continue to Elgin Crescent for a half mile stretch of everything antique. Be sure to bring your haggling skills along with you. Or if you're looking for a new outfit head to Westway where you will find second hand clothes and new designers with fresh concepts. Wacky entertainers can be spotted lining the streets at weekends too. If all that doesn't persuade you to have a peek then I don't know what will. But be warned, get here early to beat the crowds.
A quick dash along the central and circle lines and you will reach the lesser known Whitecross food market at Barbican. If you want to find fresh, frills-free food that doesn't unbalance the books, this is your place. The specialist food section of the market runs twice a week on Thursday and Friday. Whether you want British or international produce, Whitecross has it all. From fish and meat to dairy and confectionery even the fussiest eaters will find something they fancy.
However, while we're on the subject of food markets, it would be downright rude not to give Borough market a mention. If Whitecross is an undiscovered gem, Borough is the undisputed crown jewel. Located in SE1, just a short walk from London Bridge, bustling Borough is a foodies dream. A wander beneath the towering arches browsing the stalls as trains rumble overhead is almost impossible to beat. The market is heaving around lunchtime as every Tom, Dick and Harry turns up looking for a cheap yet delicious lunch. The market is split into sections, with one side, (my personal favourite), focusing on hot snacks. Everywhere you look there is another creation to crave, with aromas from across the globe wafting through the air. Stalls supply a host of treats such as falafel, burgers, hot dogs, paella and wraps; perfect to grab for a bite on the go or for a relaxing perch upon the Southwark Cathedral steps.
The opposite end of the market is where your sweet tooth can be indulged. Cookies, sweets, cakes and pastries make up the confectionery contingent. Most sellers have a separate section with a selection of goods that are free to sample if you want to try before you buy, or just fancy a browse. Other dried goods such as meats, cheese and wines all feature fresh and local ingredients that present a perfect alternative to a routine trip to Tesco's or Sainsbury's. Competition is fierce so expect vocal sellers but superb offers.
Another stop not to be skipped is the new home of the hipsters, Shoreditch. Spitalfields market sits snugly under a glass canopy so London's wet and windy days can't ruin your shopping spree. Built in 1876, the building is one of the last surviving Victorian Market Halls in the capital. The market features intriguing handicrafts and quirky antiques with plenty of unusual items that will tickle your fancy.
Budding artists battle for space inside with paintings and photography adorning the walls. The vast majority of the original artwork is available to purchase, you might just get your hands on a piece by an undiscovered artist before their big break. There is a huge range of vintage clothing and upcoming designers so ditch the upmarket stores and grab an original outfit for a fraction of the price.
If all this talk of fashion and food has whetted your appetite; branch out to Brixton, take a peek down Petticoat Lane, let yourself loose at Leadenhall, bowl over to Brick Lane or cruise into Camden. Alternatively, if my words haven't inspired you, check out the attached video, where my actions will hopefully speak louder than any prose my mind can muster.
So there you go, proof that a day out in London doesn't need to break the bank. London's markets are bursting with local and British culture, however, don't plan on seeing it all in a day as you could easily spend a month roaming the capital and still be left wanting more. London might have a reputation for being expensive but if you live like a local and look after the pennies the pounds will look after themselves. Who knows, you could even go home with a bit of shrapnel in your pocket. Now there's a nice thought.
Flickr image credits in order of appearance:
Magnus D (main image), George Rex TA, Bernt Rostad, Paul Wilkinson