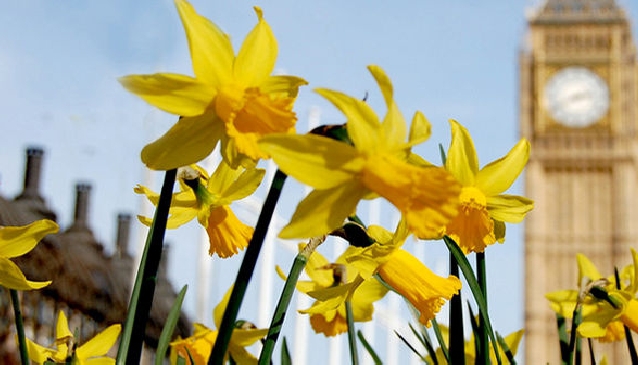 Top Parks in Springtime London
Retreats & Relaxation
...daffodils are the classic sign of spring and a great reason for a trip to west-central London...
It's fair to say London isn't renowned for miles of sun-soaked, tree-lined avenues, or indeed for much sun at all. Most of the time, London's just a giant, gloomy cloud of smoke, but when the sun does grace our city with its light, we see a transformation, especially within the several parks grow within the borders of the capital.
Highgate Woods – nearest tube: Highgate Station (Northern Line)
Formerly part of the Forest of Middlesex which sprawled its way across most of London and beyond, Highgate Woods still harbours the same holly, hornbeam and ancient oak trees. Walking through tunnels of trees down forest pathways is a delight at Highgate, and it's this aspect which makes such woodland stand out; the colours of the rejuvenated, almost glowing foliage, make for a happy and memorable occasion.
Waterlow Park – nearest tube: Archway Tube Station (Northern Line)
Set on a hillside in North London, Waterlow Park is 26 acres, offers fantastic scenic views of the City of London, and is splashed with ponds, three of which are fed by naturally occurring springs beneath the grasses of Waterlow. In early springtime, pay attention to the ponds and the wildlife that lives there. Goslings, baby moorhens, coots and other fluffy ducklings poke through the reeds for the first time and nervously take to the water.
Regent's Park – nearest tube: Baker Street (Metropolitan Line)
Straddling the City of Westminster and the borough of Camden, Regent's Park is 410 acres, and one of the nine Royal Parks in London. Such is the composition of Regent's Park – the swathes of rolling fields contrasted with secluded flowerbeds among the formal gardens – a real assortment of flora and fauna sprout from beneath the soil. Swaying wildflowers raise their heads in the wide open playing fields, while carefully arranged tulips and crocuses allow for colourful patterns and sweet scents from within their masterfully-created gardens.
Japanese Garden, Holland Park – nearest tube: Holland Park Station (Central Line)
Peeping through the chaotic buzz of the borough of Kensington and Chelsea, Holland Park is one of the smaller, quieter parks in London. However, what it lacks in size, it makes up for in romantic style and charm, especially thanks to its Japanese garden. At the entrance to the garden, you're greeted by the deep rust of a Japanese maple tree. Continue on down the twisted stone pathways between rockeries and raised flowerbeds of blood-red roses, past the calmly gushing waterfall and, after just 10 minutes, you'll have completed one lap of the circuit.
Kensington Gardens – nearest tube: Queensway (Central Line)
By March of 2011, temperatures in London reached a balmy 18°C. The gloriously warm weather was reflected in patches of yellow daffodils that carpeted sections of the grounds of Kensington Gardens. They didn't cover the entirety of the 275-acre garden landscape, but daffodils are the classic sign of spring and a great reason for a trip to one of west-central London's most regal of stately parks. Combine this with the backdrop of the glistening Serpentine lake, rows of densely-packed trees that line pathways along which Londoners love to stroll, and it's a moment in time that only spring can provide.
Hampstead Heath – nearest tube: Hampstead Station (Northern Line)
Draped over one of the highest points in London and with panoramic views of the city with St. Paul's and the London Eye dominating the horizon, Hampstead Heath makes for one of the best viewpoints and areas of wild countryside anytime of the year. It's a jigsaw of geographical features with woodland, heathland and meadows, not to mention several ponds which prove popular with casual swimmers (as long as the weather's warm enough). Yet when spring arrives an eruption of colour floods Hampstead Heath in the form of deep violet bluebells, golden cowslips and gloriously-bright turquoise forget-me-nots.
Railway Fields, near Finsbury Park – nearest tube: Manor House (Piccadilly Line)
Sitting close to another of London's smaller parks, the less-than-one-hectare Railway Fields was once a rail yard until 1967. Nowadays it's a local Nature Reserve and is dominated by silver birch woodland. In springtime, the Fields make for the perfect place to wander in the peace and tranquillity, with the now sleeping railway peering through the grass under which it lies. Indeed, the disused railtrack serve only as vague footpaths.
Main image by Magnus D