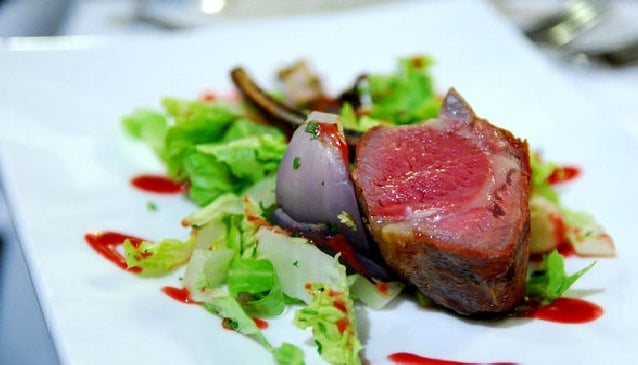 Back in Business
Food & Drink
An absence of TVs means you can enjoy the sounds of banter and the excellently curated jukebox...
We Brits have been variously known for our contributions on the world stage – industry, exploration, culture – but for all of the gifts we've bestowed upon the world, our cuisine has not exactly been one of them.
However in recent years, in part thanks to cultural shifts such as the organic and slow food and in part thanks to the ubiquity of "celebrity" chefs channelled through the all-conquering mediums of television and the internet, paying attention – really paying attention – to what we eat has slowly become a national pastime. It's not to say that we'll be vying with the Indians and Italians for the title of World's Best Cuisine anytime soon, but the talent and dedication of our chefs, producers and restaurateurs has slowly had the world sitting up and taking notice.
With the city's palate piqued by superb renditions of international cuisines, attention turned to our own neglected national cuisine. Fast-forward to the present and some of Britain's most talented chefs have rejected the allure of Europe to come home and produce wonderful versions of old- school British home cooking. Porridge and prunes, this is not.
Central to the restoration of national pride in British cooking is Fergus Henderson's St John. Known by foodies and meat aficionados as the High Priest of Nose-to-Tail eating, his London institution turns out simple but beautiful and lovingly-cooked versions of British classics such as suckling pig, game, gorgeously buttery bone marrow with parsley salad and a blood pudding to rival the best Spanish morcilla or French boudin noir. The focus is on often-forgotten and traditionally cheap cuts of the animal but of the highest quality, all lovingly prepared. The original is in Spitafields, but Fergus and his partners have recently opened up in the West End in the St John Hotel, which offers a more limited menu, but all of the classics.
Mark Hix is a man who has completed stints under some of the greatest names in Europe, but has come home to champion the cuisine of his home nation. His latest venture, Hix Soho is an excellent examples of the innovative and interesting spin on traditional British fare Hix has mastered and presented to the public.
Hix Soho is a buzzy, convivial affair, with an electric atmosphere and a wonderfully upmarket and exclusive feel, though somehow managing to feel casual all in the same masterstroke. Meat and fish are the mainstays and are precisely cooked with the best seasonal British produce available – the hanger steak is a standout, as is the free-range chicken with garlic sauce. Don't miss the downstairs Mark's Bar either – the cocktails and vibe make it one of the best bars in the city.
Tucked away in a hidden corner of Fulham is the justifiably reputable Harwood Arms. The format is a familiar one – local and seasonal food cooked to perfection, with a well-chosen beer and wine accompaniment at reasonable prices. The standard of cooking is ridiculously high and sets the standard of what pretty much all British food should taste like – the Gloucester Old Spot pork belly may be one of the best things I've ever eaten, the roast beef is a revelation and the scotch egg may be the best in town. The kitchen's understanding of how to prepare venison is a real strength, and it's probably the only place in England with a Michelin star that you can pop into for a pint. A side note, however - even though it pens itself as a pub, it's actually pretty smart and in-demand, so book ahead.
Old Red Cow
Located bang smack on the doorstep of Smithfield Market and independent of any large local breweries, the Old Red Cow is a freehouse and is able to serve what it damn well pleases. But look beyond the stellar and constantly evolving range of bottled, keg and tap beers (this is a serious beer-lovers paradise) and you'll find a talented kitchen dishing out world-class roasts, classics like steak and oyster pie and bar snacks such as gammon scotch eggs and grilled squid. An absence of TVs means you can enjoy the sounds of banter and the excellently curated jukebox while you tuck into your burger and pint.
Bringing well-executed and unpretentious versions of new British food to the masses, Canteen is a small chain of British dining rooms styled as, well, canteens. With long tables, low slung lights and sparse decoration, the food is truly left to speak for itself and does a superb job of being up to the task. The menu is unashamedly nostalgic and features fish and chips, potted duck and picallili and roasts alongside more discerning choices like braised pigs cheeks and underrated classics like Lancashire Hotpot. Desserts are good too, with traditional hot puddings like carrot cake and sponge cake served up with brio