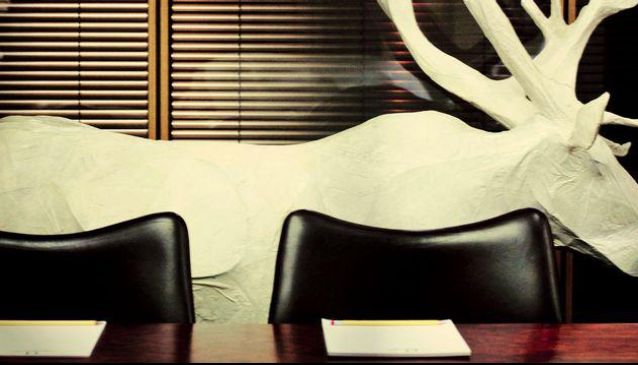 Home Away From Home
Retreats & Relaxation
The rooftop pool...becomes accessible to those booked into the Shoreditch Rooms.
For us, part of every great experience abroad has been the accommodation – where we stayed and slept, the place we hung our hat and the people and friends we made while staying at said place. Though everyone has a tendency to shoot for the most comfortable or stylish options possible in the hopes of living out that obscure city break or romantic weekend fantasy as they envisaged when they first set eyes upon the destination of choice, far more often than not the reality of travelling on a budget means that the inevitable result is a far more sobering prospect.
Well, not necessarily so, dear reader. The explosion of boutique and design-led hotels has led to a demand from the lower echelons of the market, and now increasingly more attention is being paid for comfort and style without charging a whole lot more. The result is a lot more bang for your buck, and out with the stuffy linen, in with the clean and unfussy presentations more and more of us demand from our hotel. Our picks are small but beautiful, and at all within the £80-150 target budget, will leave you more for the rest of your London experience.
Shoreditch Rooms
With just 26 rooms and small ones at that, Shoreditch Rooms is probably the most interesting proposition on our list. Why? If it isn't the novel approach to room categorisation (Tiny, Small and Small+), the urban poolhouse-style rooms and wonderful fifth-floor restaurant, nor the pleasingly convenient location on the doorstep of East London's nightlife, then consider this: the Shoreditch Rooms are an extension of Shoreditch House, an address that even the most keyed-in Londoners would get giddily excited about. The previously inaccessible rooftop pool, with its jaw-dropping people watching opportunities and arching, panoramic London skyline views suddenly becomes accessible to those booked into the Shoreditch Rooms. It seems a no-brainer that if you're coming in from out of town, accommodation and access to a city hotspot in the same package is undeniably attractive.
In reality, you'll probably end up having to pay more if you're to avoid the 'literally tiny' category of room, but it's a decision worth considering. We're thinking of booking in there for the summer – and we already have a flat in London!
The Hoxton Urban Lodge
Located in the nightlife hub of Hoxton, the Hoxton Urban Lodge is undeniably appealing. From the lobby's eccentrically funky decorative touches (papier-mache birds, anyone?) and roaring wood fires to the clean and comfortable rooms, it is undeniably very good value for money and has the feel of a boutique hotel. Based on the Easyjet model of demand, rooms get cheaper the further in advance you book them and the less demand is for them, so it's very feasible to pick up an exceedingly cheap break if you pick your timing correctly – rooms are available at £59 every night of the year. The location on Great Eastern Street is perfect for the bars and restaurants of Hoxton, Shoreditch and Dalston, and would make a great choice for a group of friends away in the city for the weekend – however, you'll need to organise yourselves as they only let two people in per room. But with downy duvets, free internet and cheap calling along with an undeniably hip vibe, it's a proposition well worth the extra bit of effort.
22 York Street
A safe haven from the rush of the neighbouring West End, 22 York Street is a warm and comfortable B&B in the very civilised neighbourhood of Marylebone. The building itself is a five-storey Georgian townhouse laden with all of the home comforts of a French-influenced country house, as are the hosts, so expect a very warm reception. Pretty and inviting, and in a central location near Baker Street and Marylebone stations – in easy reach of Regents Park and Oxford Street – the hotel is also excellent value for money, at £90 for a single and £109 for a double. Rooms are bright and airy, and the continental and cooked breakfasts are both superb.
Arosfa
Set in the environs of a gorgeous townhouse a stone's throw from Soho and the West End, Arosfa is known for providing fantastic value and exceptional service – the kind of service that only a family-run establishment can provide. The rooms are small but simple and clean, with colourful touches, while the common areas are louche, comfortable and though stylish, importantly unpretentious. A triple room can be had for a bargain £125. It's also worth noting that, should you choose to stay here, you're in Bloomsbury central, which makes the surrounding antique and bookstores, British Museum and Regents Park easy pickings in terms of convenience. We've heard nothing but glowing reports.
Stylotel
Let's get to the point – Stylotel bills itself as a budget hotel aspiring to the Schrager/Starck model, but despite the modern feel and futurist touches, you're essentially paying for a very central location (a couple of streets away from Hyde Park and Paddington station) and clean, minimal rooms. There is no fuss, it makes a great alternative to the traditional B&B, and is definitely a step up from a hostel – twins and doubles can be had from as little as £89, but if you're willing to pay a little more, the studio and apartment are also very good value. The staff are very helpful and its discreet location in Sussex Gardens is also part of its appeal.