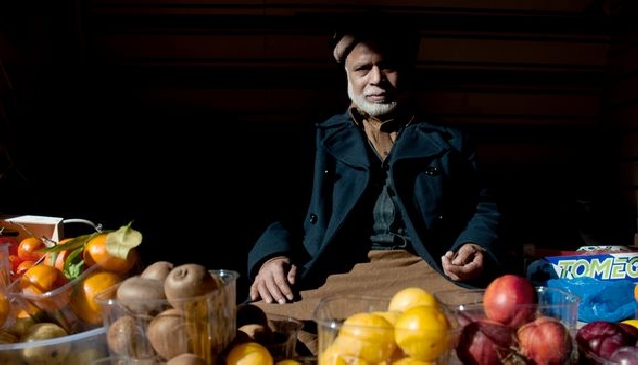 The Best Street Food in London
Food & Drink
The pork...and the cool, creamy 'slaw helps it all slide down effortlessly
The concept of street food in London is rising in popularity. Thousands of busy people without the time to eat out at a restaurant are seeking quicker ways to get a meal inside them. With the amount of street food vendors appearing in the city, London can breathe a sigh of relief. And it's not a deep-fried, grease-soaked affair either. The cheap eat street food vendors of London rival those of the Far East. So, allow us to shed some light on a few of London's best roadside eating establishments.
Mother Flipper – follow them on Twitter @MotherFlipperuk
On the menu are three choices: the Mother Flipper Cheeseburger, the Chilli Flipper, and the Double Candy Bacon Flipper and they weigh in at £5, £5.50 and £6 respectively. Whatever the guys at the grill may lack in variety, they more than make up for it in the size of their patties. Stacked to the heavens with thick, juicy meat patties, stuffed between two soft, glazed brioche buns and dribbling with your choice of filling, these monsters take a big mouth and a big appetite to consume.
Where & when: Brockley Market, Saturdays: 10am – 2pm & King's Cross, Tuesdays: 11am – 2:30pm.
Taking a Southern-style twist to the street food scene, Anna Mae's Smokehouse serves up the ever-popular combination of pulled pork and a side of 'slaw for your pennies. The pork, after a fourteen-hour-long smoke, practically dissolves in your mouth, and the cool, creamy 'slaw helps it all slide down effortlessly. Trust us you'll be back at Anna Mae's for seconds before you've even finished the final swallow.
Where & when: Check the website for various locations and times.
Daddy Donkey
This bad-boy burrito stand in Kings Cross fills up floury tortillas and tacos all day long. They pride themselves on being a "kick-ass Mexican grill" and live up to that claim thanks to their signature char-grilled chicken, steak and pork pieces. Tightly wrapped in foil retaining all the flavour and textures of the perfect burrito, Daddy Donkey provides the mild to the explosively spicy burrito to go.
Where & when: Leather Lane Market, Pitches 100-101, daily: 7:30am – 4pm.
You won't need more than a fiver for one of these hearty American-style dogs. Sounds obvious, but these Franks are as thick as a baby's arm and the length of a two-by-four, strongly seasoned with their own herbs, spices and peppers and, basically, we reckon they're the best hotdogs this side of the English Channel. Choose from four different 'breeds' of dog, each one bursting with its own unique taste, and get ready to chow down on a pure ground pork and beef frank.
Where & when: 239 Old Street, Tuesday – Friday: 12pm – 6pm.
Chunks of sirloin dribbling with pear-flavoured BBQ sauce, fish fillet marinated in turmeric and grilled with onions, pork belly crisped, spiced and dripping with lemon jus, fresh tofu with lemongrass and sweet & sour sauce. All these combos can easily be pictured on platters and served with cutlery, right? Not at Bahn Mi 11. This Vietnamese brand prefers to stuff them all in gorgeously soft baguettes and serve them with paper packaging. You can even have one delivered to your desk (as long as you work near Canary Wharf). But, fear not, they're setting up a shop this summer for a more permanent grounding.
Where & when: Check the website for various locations and times.
Egg Boss – follow them on Twitter @Egg_Boss
One man, one stall. You won't find the egg boss, Sean Lawson, ranting and raving about his fare. You'll have to track him down yourself, making your discovery of Sean's gourmet scotch eggs all the more satisfying. With varying flavours every week from the traditional black pudding Scotch egg to ones packing a punchy spice, let the Egg Boss show you why he thinks his eggs are the next big thing. And, from £3 a pop, he's already on the right track.
Where & when: Frequently found at Venn Street Market: 11am – 4pm & Brockley Market on Saturdays.
This really popular stall consistently satisfies hungry punters thanks to its succulent belly pork which fills up soft, puffy buns. Together with cooling cucumber, a bitey sriracha sauce and the sweet and sticky hoi sin, these 'yum buns' certainly live up to their name. For under £5 (or two buns for a fiver) you definitely can't pass up an opportunity to stop by and have a try. There's also a varying degree of Asian stews to sip and chew on. No excuses here.
Where & when: Broadway Market school yard, Saturdays: 10am – 4pm.
Agushi is a type of Ghanaian soup (and we all know what spinach is) so when the two are ladled into your bowl and the steam rises into your nostrils, you'll hardly feel like you're in London anymore. You can choose to eat your soup with rice or their sweet fried plantain. Either way it's delicious and filling and won't cost you the earth.
Where & when: Exmouth Market, Fridays: 11am – 6pm & Saturdays: 9am – 4pm.
Imagine a ham sandwich. The most basic of sandwiches. Now imagine a ham sandwich on holiday in Las Vegas. That's what you get at this stand. Italian flat breads choked with Parma ham and salami, plus strips of mozzarella and other cheeses and salads. Folding it up like a calzone before presenting it is how they do it at La Piadana Pronta, and we think it's terrific. The portions are gigantic, meaning you'll stay fuller for longer and are guaranteed to return for more.
Where & when: Boiler House Food Hall, Brick Lane, Saturdays: 11am – 6pm, Sundays: 10am – 5pm
Known by locals for obvious reasons – his ribs being absolutely outstanding – meat here comes by the full and half racks, in wraps or in rolls and they're mouth-wateringly delicious. The Rib Man's (Mark Gevaux) ribs are soaked in his speciality BBQ sauce which could blow the roof of your mouth off, so watch out. One tip we'll offer you: get there early. We mean it. This guy's ribs sell out so quick you'll be gutted to wait another week for the next batch.
Where & when: Brick Lane, Sundays: from 9am until the Rib Man runs out of meat.