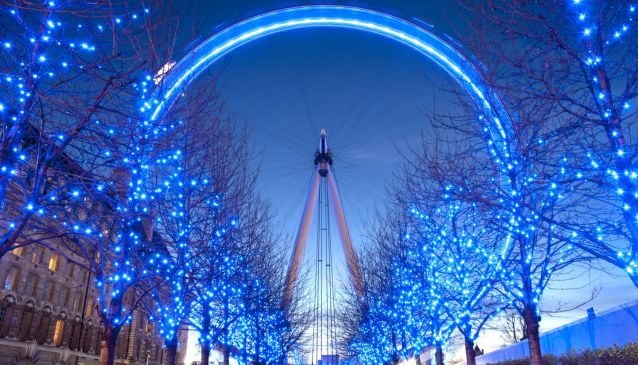 Top 5 Winter Attractions in London
Family Fun
The Christmas period is the perfect time to watch a show and escape the cold winter weather.
Find exciting things to do in London during the winter months. From the Gothic statues at Highgate Cemetery to the rides and games at Hype Park Winter Wonderland, check out these must-see London attractions.
Article Author: Maggie Barr
Main Image Credit: Jamie Koster
No winter spent in London is complete without a visit to Hyde Park Winter Wonderland. Rides, shopping, ice-skating, Christmas lights, and a circus – the park has it all. Since 2006 the park has wowed visitors with its spectacles. As Winter Wonderland continues to grow in popularity, more attractions are added. This year's recent additions include:
Santa's Factory – a funhouse where elves can be seen crafting toys
The Magical Ice Kingdom – a display of themed rooms filled with spectacular ice sculptures
Double-Decker Carousel – two levels of glittering animals to ride
Yuletide Market– a second market filled with seasonal gifts
Winter Wonderland Star Flyer – a ride that allows you to soar 60 meters in the air while spinning 360 degrees
Entrance to Hyde Park is free; however, unless you are content to just walk around enjoying the atmosphere, you'll need to bring money for the extras including rides and attractions.
Dates and Times: Open from the 24th November until the 6th January 2013, from 10am to 10pm. Closed on Christmas Day.
Image Credit: Wikimedia Commons
When you think of the Christmas season, a cemetery is not usually an image that pops into your mind. But the winter season is an excellent time to visit this legendary cemetery. Not only will you run into fewer tourists in winter time, but you'll also see the cemetery while the weather is bleak, damp and dreary, giving it a heightened Gothic look that will make you appreciate the Victorian architecture, graves and statues even more. The spooky, mysterious look of the cemetery with its overgrown weeds and foliage is often a highlight for visitors.
Highgate Cemetery is home to 170,000 souls buried in and around 53,000 graves. Although most plots belong to those departed in the Victoria era, people are still buried there today. Many famous authors, musicians, actors, painters and other notable individuals are buried at Highgate Cemetery, including:
Karl Marx – A German philosopher most famous for his work The Communist Manifesto
The brother, wife, daughter and parents of Charles Dickens
Douglas Adams – Author of The Hitchhiker's Guide to the Galaxy
George Elliot – Pen name of Mary Anne Events, a Victorian writer
The cemetery is divided into two parts – the East and West Cemetery. You can book a tour led by the Friends of Highgate Cemetery during the week by calling 0208 340 1834. Weekend tours are on a first come, first served basis. Be sure to bring a camera and wear good walking shoes – parts of the cemetery are overgrown with foliage and the path can get quite muddy.
Image Credit: Flickr – Yuri Virovets
The height of London theatre resides in the West End theatre district near Shaftsbury Avenue. Many of the city's most famous theatres are also conveniently located by an assortment of London hotels, making them a popular choice for travelers. The Christmas period is the perfect time to watch a show and escape the cold winter weather.
Ballet
The Nutcracker is a time honored Christmas tradition for both Londoners and tourists. Watch the classic story of Clara and her Nutcracker doll as you take in the splendid costumes and elaborate set. The Nutcracker is performed annually by the English National Ballet.

Pantomimes
Pantomimes are a classic part of London's Christmas traditions and no winter would be complete without seeing one. Usually based on children's fairy tales, Christmas pantos are full of song, dance, slapstick, comedy and a little bit of cross-dressing. Great for a family day out, audience participation is key so be prepared to belt-out your best 'He's behind you….!'

Alternate Theatre
Let's face it – for some, the holidays are a burden that they'd love to escape, even for just a night. If you need a break from the holiday festivities this year, check out London's alternate Christmas performances with steamy burlesque and cabaret shows. Featuring dancing girls, drag and adult themed pantos, you'll find a variety of these shows across the city all winter long.
Image Credit: Flickr – Kelsey_lovefusionphoto
Get into the holiday spirit by listening to your favorite Christmas carols. We're not talking about door to door carolers, but cathedral services in some of the city's finest venues such as Westminster Abbey and St. Paul's Cathedral. You'll often see celebrities making guest appearances and doing readings before and after the singing too. Many of the carol concerts are held to support various charities and causes, so you'll be doing a good deed whilst enjoying angelic voices bounce off the vaulted ceilings. Trafalgar Square hosts free Christmas carol services throughout the month of December, with as many of 50 different groups of carolers taking part. You can also check local listings for carol shows in London's ancient cathedrals.
Image Credit: Flickr - LaserGuided
Support a good cause and have a good laugh when you watch or participate in The Great Christmas Pudding Race.Started in 1980, the event raises money for Cancer Research in the UK and features wacky outfits, guest appearances by celebrities and a day of fun for spectators. The race features 24 teams in festive garments following a relay-style obstacle course filled with challenges such as jigsaw completion and dodging flour-filled balloons. The race takes place in the West Piazza of Convent Garden Market in December each year. In addition to race watching, spectators are also treated to live music and other interactive activities. Don't forget to bring your cameras to this event!
Please note this event is free for spectators but participating parties (teams of six) must raise a minimum of £600 (£100 per person) and pay a registration fee of £25.00 per person.
Dates and Times:1st December 2012 at 11am
Image Credit: Flickr - SPakhrin