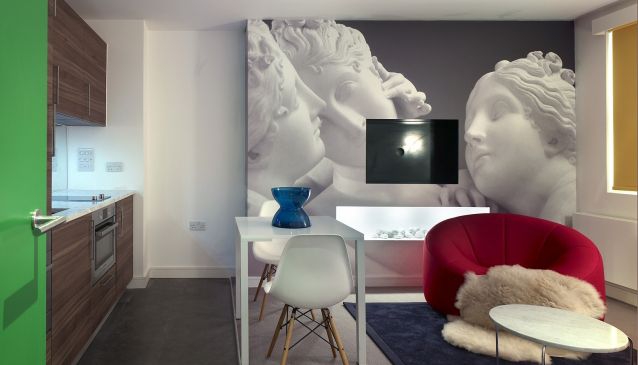 Go Native in London
Editorial
Go Native have developed their solution to the local-yet-private conundrum...
As a travel journalist I'm often asked what makes a memorable holiday. While sun-soaked beaches, snow-capped mountains and copious amounts of local food and drink might look good on paper, the deciding factor between a good holiday and a great one often lies in how well you settled into your destination – rather than what you saw or ate.
Erasmus students are constantly told this as they venture to their chosen country to assimilate the culture and language. To get the most out of your experience you need to integrate yourself – you need to 'live like a local'.
Going Native
As the half-way house between actually living with a local and checking yourself into a hotel (the equivalent of sticking a badge labelled 'tourist' to your forehead) Go Native have developed their solution to the local-yet-private conundrum. With a network of over 25,000 serviced apartments spread out over Europe, the Middle East, Africa and India they offer the possibility of having your own stylish apartment amongst local residents of the area – yet still being able to watch what you want on the TV, spend all evening soaking in the bath or wandering around in your bright green 'Turtles' onesie.
The apartments range in their 'star' ratings depending on the facilities they offer. All are fully furnished with maid service at least once a week and five star properties are located in buildings with a manned 24 hour reception, thus offering security yet freedom in one well-organised swoop.
A Home from Home
Stepping off the train I already knew living like a local in Paddington was going to be decidedly more luxurious than living like the local I am in Borehamwood. Glancing at the estate agents as I took the five minute walk from the station, prices for a two bed apartment soared well above the million pound mark. With a one bed apartment at Go Native starting from £150 per night, for those wanting to live a fantasy for a few nights; this is your golden ticket.
Arriving at reception the foyer was smart and chic, the 'Go Native' logo the only sign this wasn't any other residential apartment foyer. With my swipe card in hand it was up the carpet decked stairs to room 102. The spacious living area was straight ahead with a bathroom to the left and a winding spiral staircase off to the right. Climbing the stairs takes you to a mezzanine level where the plush cushion-covered double bed and period features of the celling juxtaposed with the modern glass balcony looking down onto the sofas below. Leading away from the reception room's rear was a neat fitted kitchen, complete with teabags and a carton of milk for that all-important 'make-yourself-at-home' brew.
Settling into the Neighbourhood
Having lived all over the place since leaving home at 18 I still struggle with the concept of being a 'local'. The dictionary definition stipulates: "belonging or relating to a particular area or neighbourhood" which highlights my trials to date. Trying to tackle London in one go is like trying to learn French by opening a work by Satre. To fully feel at home in a city that is so complex and full of detail you need to break it down.
Go Native clearly did their research as their focus on making you feel at home within the neighbourhood you are staying in. An idea which aims to combat the overwhelming feeling you can so often get when arriving in an unfamiliar city. They provide information on where to eat, what to see and where to go within walking distance of your apartment, with an initiative planned to incorporate local discounts from resident suppliers for Go Native customers. This is also going to extend to events so anyone planning a stay in the area can get alerts sent to them in advance, making it even easier to hit the ground running.
After browsing the welcome pack I decided to explore Hyde Park given it is stumbling distance from the apartment. Had I have been feeling more energetic I'd have donned my running shoes and tackled the full outer perimeter, or ran to the Serpentine and stretched it out while watching the geese and loved-up couples fighting for space on the grass. However, I also wanted to fit in Little Venice, only a 10 minute walk north of Paddington Station, and leave some time to do a spot of shopping before dinner…
Food Glorious Food
The beauty of an apartment is the option to eat in or out at your own leisure. Hotels can often be restricting with evening meals included in the price (or the same tiered buffet on repeat), but with no ties to honour you can eat where the wind takes you.
Staying at Sussex Gardens the neighbourhood throws up a pleasant array of café's, pubs, chain restaurants (like Angus Steakhouse and Ask Italian), as well as speciality restaurants like Masgouf – Le Chef (Iraqui cuisine), Colbeh Restaurant (Arabian) and Argentinian Casa Melevo. The food halls of Selfridges and Fortnum and Mason are also not too far to stretch (though the prices if you aren't expecting them, might be). Alternatively, if you head over to Edgeware Road, Lebanese restaurants and shisha bars offer up a more laid back vibe.
* * *
Wandering back to the apartment with my belly full I deduced that so far I'd eaten well and seen the sights – but had I settled in? Taking the dictionary once again at face value, to feel 'settled' somewhere you need to feel 'comfortable'. Not only did I have somewhere comfortable to lay my head at night, I knew the best place to grab a morning latte, order a late night bite and take an early evening stroll. Living like a local is when you're actually not a local is pretty fun; it's all about the small things - and as my stay demonstrated - you certainly don't need a 1.2 million pound mortgage to appreciate those.