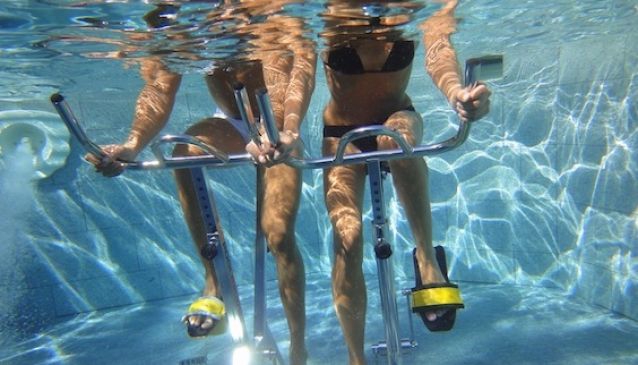 The Friendliest Fitness Craze?
Inspiration
..there is a delightful feeling of freedom that comes with being able to control your own workout...
I tend to avoid exercise; running for a bus or the last train is usually as energetic as my day gets. Therefore, it was with some trepidation I entered the threshold of Dolphin Fitness Club in Pimlico; I was there to try aqua-spinning.
Invented by an Italian physical therapist, aqua-spinning is exactly the bizarre concept it first appears – basically cycling underwater. For those that have tried spinning – I haven't, but I've seen some tortured faces leaving a spinning class – the idea of high-octane cycling with the added resistance of water seems like a hellish combination.
You can perhaps see why I wasn't overjoyed that last Thursday evening saw me in the unfamiliar territory of a fitness centre, rather than snuggled up in bed watching Breaking Bad or Homeland. But Dolphin Fitness Club is a pleasant experience from the start; all attractive smiling receptionists and gleaming floors and walls.
The pool was something else; the undulating waters were softly lit with the kind of icy glow you expect in a classy cocktail bar, not a swimming pool. I gawped at it through sheets of polished glass on my way to the changing room, and while the hint of chlorine and echoed splashes stirred up unwelcome memories of school swimming lessons, the fluffy towel, dressing gown and flip flops waiting in my locker did much to reassure me that this was all worth it.
Thankfully, aqua-spinning was perhaps my most positive workout experience ever. Like the gyms that cater to those that those that dislike the usual gym atmosphere, this new fitness craze can be a remarkably gentle form of exercise, perfect for those who are unfit. In fact, it was originally designed as physical therapy for injured athletes, so you can see how it might appeal.
Dolphin Fitness Club recently joined forces with French-native Dorine Denjean, the founder of AquAllure. This is a programme of aqua-cycling that now introduces this innovative fitness experience to Londoners – it is the first class of its kind in the city. Dorine first tried classes herself in France, saying: 'I relied on aqua-cycling to get the results I wanted – improved fitness and reduced cellulite. As an added bonus, it gave me a much better quality of sleep post-workout. I truly believe there's nothing quite like it.'
Aqua-spinning has really started to take off this year. So why is it so good? Far from the muscle-burning, frantic pedaling action of regular spinning, aqua-cycling is a low impact activity, and the presence of water means absolutely no muscle soreness the next day (I must admit, I was more than a little sceptical about this claim). In addition to the benefits Dorine mentions above, you'll find aqua-cycling is great for pregnant women, sufferers of heart disease and those trying to lose weight – you can burn up to 800kcal in a single session.
I'll tell you why I liked it. Firstly, although you're only wearing a swim-suit (or bikini) - which is probably more exposed than you'd like to be while exercising – you're also submerged up to your waist, therefore covering those problem areas of belly and thighs with a helpfully blurry layer. Not such an issue for guys I imagine!
Secondly, aqua-spinning is really as intense a workout as you make it. The friendly instructor cycled along with us, and obviously pushed himself quite hard – he was visibly fit and it was his third or fourth class of the day. But amazingly there is no pressure to push yourself to any limits, and there is a delightful feeling of freedom that comes with being able to control your own workout in this way. An added bonus is that should you want to really go for it, the water disguises any sudden outpouring of sweat…
The idea is to cycle constantly throughout the class. This is easy. There are no gears on the bike; you make the workout harder for yourself by cycling faster, which ups the water resistance. This cycling is accompanied by a range of movements with the arms and torso, giving you a complete body workout. Some moves made me feel a bit of an idiot, but then I remembered I was surrounded by people who looked equally ridiculous, so I giggled and got on with it.
The 45 minute session passed all too quickly, and I clambered off my bike to stretch my newly toned (this was how they appeared to my exercise-addled brain) limbs and torso. I felt so good I even walked back to Victoria instead of taking the bus. Result.
Did my body feel sore the day after trying this revolutionary fitness class? I'm not telling – go and try it for yourself!
AquAllure classes at Dolphin Fitness Club are £20 per class for non-members, with discounts for members and bulk purchases. You can enjoy a free first session by becoming a member.
Photos by AquAllure/Dolphin Fitness Club