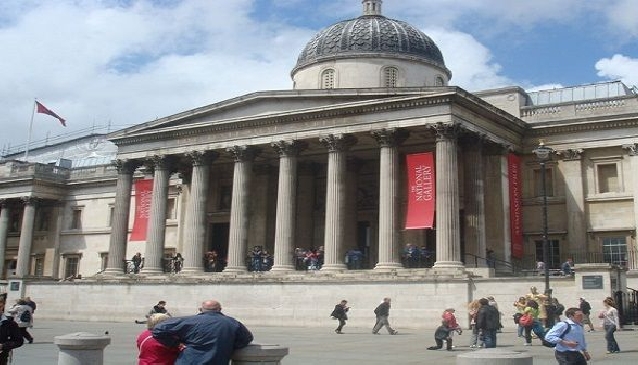 An Art Ambler's Dream
Arts & Culture
...artists began employing new techniques attempting illusion, perspective and human emotion...
As an Art History graduate, I often find myself daydreaming about allegorical frescoed walls and palazzo ceilings. True, the average person may conjure up dream jobs, houses and holiday homes but instead my thoughts are littered with swirling putti and cheeky-faced cherubs.
So when My Guide were kindly invited by Context Travel to spend an afternoon ambling around London's National Gallery, I was drawn to this chance like a moth to a flame, like Michelangelo to a slab of marble, like Raphael to a palette and paintbrush. But I digress; apologies, the pitfalls of being a dutiful daydreamer.
When I arrived for my tour, it was just another typical day on the busy forecourt of Trafalgar Square. Bursting at the seams with the hustle and bustle of daily life, I felt I had delved right into the heart of London's fast-paced life. Bright red buses rushed by in every direction, businessmen paced across the square stealing a moment alone and groups of school children noisily chattered in high-pitched crescendos.
With a camera in hand and a notebook perilously perched under my arm, I tried desperately to capture the chaotic atmosphere surrounding the unperturbed portico of The National Gallery. Looking every bit laughable, like a lost tourist I stumbled around searching for a sign of Context Travel. Coming to my rescue, (trust me to play the damsel in distress), was my effervescent docent Eowyn, overflowing with contagious excitement and enthusiasm.
After a few friendly inductions to my fellow art walk attendees, a charming couple from the U.S., Eowyn plunged straight into our 'Truth and Illusion Tour' without a moment to spare. Tapping into a wealth of worldly knowledge with ease and charm, she spoke of the history and development of a national collection which today stands proudly at over 2,300 western artworks, spanning from the 13th to the 19th centuries.
Wandering around The Sainsbury Wing, the impressive stage for our art amble, we traced the chronological development of art from early stylised medieval works right through to bold and dramatic High Baroque works. While there was also the opportunity at the end of the tour to explore art at the turn of the twentieth century, consulting Degas, Monet and Van Gogh, our group decided to focus on the core collection of Italian Renaissance masters, the true treasures of the Sainsbury collection.
Tracing the shifts in subject, style and function of art over the evolution of time were the true strengths of this tour. Bringing to light the move from art as simply public and religious adornments to secular pieces to be enjoyed in private palazzos, we explored the rebirth of classical principles occurring during the Renaissance. Bringing into play the progression of the artist's medium as well as the question of patronage, this visual journey of exploration was truly rewarding as it became evident that artists began employing new techniques attempting illusion, perspective and human emotion for their own self -expression. Studying poignant works from the different artistic centres of Florence, Rome, Venice and the Netherlands, by the end of the tour we had trailed a comprehensive covering of art from the 13th to the 18th centuries. And, all in just over three hours; more than a little bit impressive if you ask me!
So for my fellow art historians and dutiful daydreamers, and everyone in between, I would definitely recommend this tour. Not only does it offer a thorough and enjoyable visual journey through time, stopping before the great masters such as Michelangelo, Leonardo, Raphael and Caravaggio, but it leaves you with a lasting thirst for knowledge and a resounding love of art.
Truth & Illusion Tour Summary
Where: The Sainsbury Wing, National Gallery
When: Tours are available daily at 11 AM, 2 PM, or 5 PM (only on Fridays)
Price: Group walks are £60 per person, (private walks cost £250)
For further information on this tour or any of Context Travels other walks check out http://www.contexttravel.com or contact info@contexttravel.com.