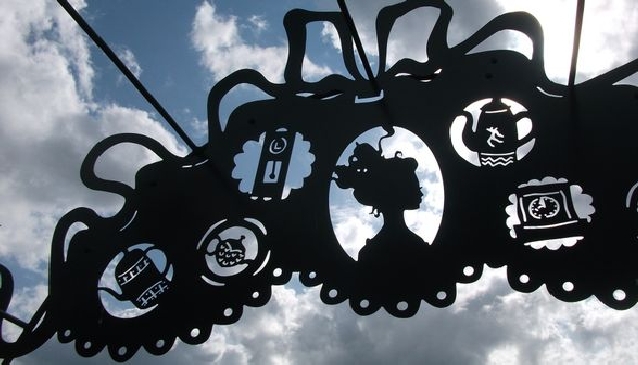 Knightsbridge & Kensington in Context
Arts & Culture
...that this monstrous city should have one entrance is enough to send shivers down the spine...
Is it wrong that as a Londoner I know more about the streets of Seville or Le Mans than the intricate workings of the West End? That I can navigate my way around Paris' famed 'Jardin du Luxembourg' with more aplomb than Hyde Park? Or, indeed recite more hotels in which to lay my weary head in Vegas than in London and her suburbs combined? They say you don't appreciate something until it's gone and the time constraints implemented through a 6 month placement inevitably instigates an exploratory instinct somewhat absent from the psyche of a more complacent (mortgage paying) citizen.
It was therefore, with much enthusiasm that I arrived at Kensington South for the start of my Context tour of Kensington and Knightsbridge. I was promised an insight into these areas of our extensive capital and for once, rather than hurriedly trying to dodge tourists, I was to join them.
Waiting eagerly outside St Mary Abbots Church on High Street Kensington I met my docent for the duration, the friendly and enthusiastic Eowyn. After collating our group (a couple from the States and a fellow writer also living now in London) we began… and I didn't stop listening, scribbling, clicking and learning until we were left, three hours later in the middle of London's busiest roundabout… but more on that later…
Humble Beginnings…
The first thing that I remarked was just how knowledgeable Eoweyn really was as she began by giving us a background of London's meteoric rise from a humble settlement to the country's largest conurbation. Kensington (or Kensing Town as it was originally known) was located just outside the city gates and offered proximity to the city of London, accompanied with green space … and royal neighbours. Indeed, when in 1689 the royal family purchased, what we now call Kensington Palace, the village's reputation as a wealthy and upmarket London residence was cemented.
Today, Kensington still has that high-class allure and as you wander through Kensington Gardens to the Palace you can only imagine the appeal of living in a place with high society and space, at a time when social order and living standards were floundering. That was until, aged 19, Queen Victoria took the throne.
A Royal Legacy
Standing out looking over Kensington Palace Gardens, with the Orangery to my left and the ornate flower beds of the palace manicured before us it was difficult to imagine a young Victoria growing up here and later, along with Albert, implementing reforms and projects that would still be alive and kicking today…
It's safe to say the historical insight I took away with me from wandering Kensington's park and streets has made me look on this area in a different light – to understand how an area has come to being is like learning a person's story and, nosy by nature, this part of the experience was right up my street.
After taking in the Albert memorial facing one of Albert's flagship projects, The Royal Albert Hall, the National History Museum and the Victoria and Albert museum were next on the itinerary. Music, Science and Art were huge passions of Albert and this whole area has even been dubbed "Albertopolis" due to the huge cultural and educational impact he has had on its development.
The Knight's Bridge
I guess it doesn't take a genius to work out 'Knightsbridge' derived from 'The Knight's Bridge' – the entrance to London, flanked by knights. Knowing London, as I do today, the idea of knights guarding the city's entrance highlights just how far the city has come. Indeed, the idea that this monstrous city should have one entrance in itself would be enough to send shivers down the spine of commuters up and down the country…
Today, Knightsbridge is another wealthy and well-to-do area of the metropolis, home to arguably the most prestigious retail outlet in the capital: Harrods. Again, the history behind this iconic store is absorbing, highlighting how this impressive building combined striking architecture, a prime location and Great British products to metamorphose into the institution we know today.
So, it was along Brompton Road we walked, past Harvey Nichols, along Hyde Park, past Aspley House, which boasts the address, '1 London' (a former home to the Duke of Wellington and now open to the public and run by English Heritage) and onto the busy roundabout I mentioned earlier – housing Wellington Arch and a proud welcome to those entering the city from the west back in the 18th century…
Its grandeur can't be denied. Indeed, the juxtaposition of old and new, symbols of battles won and prestige gained being circumvented by the modern wheels of progression highlight more than ever not only how far London has come, but how a city, and two areas within it didn't gain their reputations by chance. You can walk through a place to gain a feel for the here and now; but you need the history to put it into context.
London Orientation: Kensington and Knightsbridge Summary
Where: Kensington & Knightsbridge including Hyde Park, Victoria and Albert Museum, Kensington Gardens.
When: Check online for current dates and times.
Price: Group walks are £45 per person, (private walks cost £180).
For further information on this tour or any of Context Travels other walks check out http://www.contexttravel.com or contact info@contexttravel.com